Instant Access to John Micsak's Professional Speaker Booking Tools for Meeting Professionals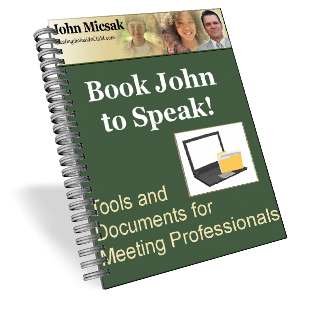 This downloadable file includes John's Presentation Topics, Speaker One Sheet, Pre-program Questionnaire, Introduction, Audio/Video Requirements and Speaker Evaluation.



Click Here to Download
** Right click and select "Save Target As" to save to your computer. Mac users "Shift-Command-S".
... Or You Can Download Each of John Micsak's
Meeting Professional Tools 1-by-1!

Speaker One Sheet
|
(Hi-res Version)

Presentation Topics
Pre-program Questionnaire

Introduction

A/V Requirements

Evaluation

John Micsak Photo #1

John Micsak Photo #2

John Micsak Photo #3